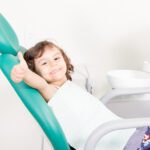 KIDS DENTISTRY
Inspire Dental is proud to offer children's dentistry that is second to none, thanks to the specialists we have on staff and how we treat all of our patients, especially how children's teeth need to be treated. Dr. Saleha Shah, a pedodontist, specializing in treating children's teeth, is a member of our staff.
A good children's dentist will take the time and care necessary to comprehend this impressionable age and help patients overcome their worries about visiting a clinic and receiving treatment.
Our clinic aims to provide a setting where your child or children can form a positive attitude about dentistry that will last a lifetime. They will be able to acquire and retain healthy teeth because of these abilities. Our team spends extra effort and time with each patient to accomplish this aim.